GMHS CONSTRUCTION TRAFFIC FLOW
NEW TRAFFIC FLOW BEGINNING MONDAY JUNE 17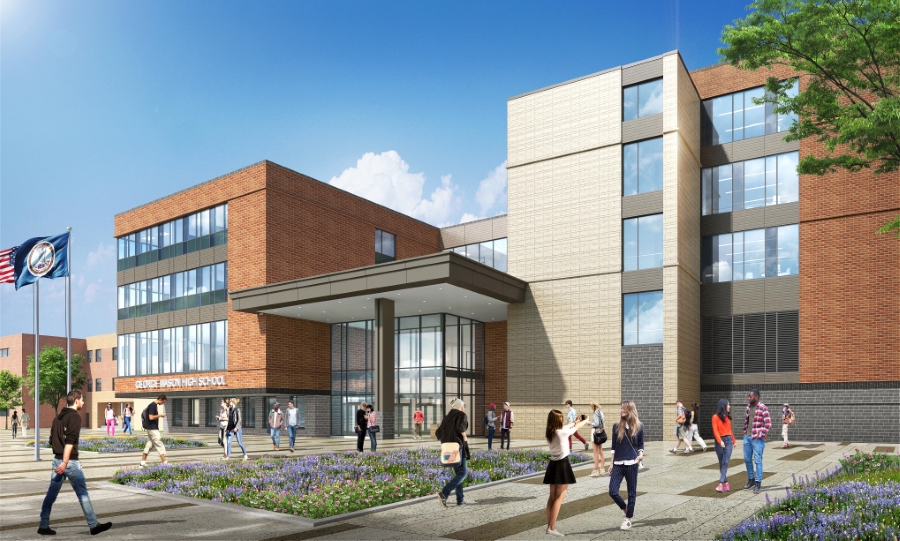 Construction on the new George Mason High School begins June 17 with the fencing in of the project area. This initial work will immediately eliminate the parking lot to the rear of George Mason High and Mary Ellen Henderson and force changes in traffic flow for the remainder of the project.
While the driveway behind GM and MEH will remain open, it will be used primarily for school bus traffic and will not be available as a popular cut through between the two schools during Dropoff and Pickup times.
FALLS CHURCH REC AND PARKS SUMMER CAMPS
Falls Church Rec and Parks Summer Camps begin June 17th on the George Mason campus and athletic fields as well as the Mary Ellen Henderson gymnasium. The following are the traffic patterns for Dropoffs and Pickups of campers.
CAMPS HELD AT GEORGE MASON HIGH SCHOOL AND FIELDS
Dropoffs and Pickups can be made from either Haycock Road, or the Route 7 entrance to George Mason.
Parents are asked to use the Haycock Road or Route 7 entrances to George Mason High school to Dropoff and Pickup students from summer camp this summer. In both instances you are asked to exit to the same road and not cut through the rear of GM and MEH.
CAMPS HELD AT MARY ELLEN HENDERSON GYM
For Dropoffs and Pickups for camps held in the Mary Ellen Henderson Gym this summer, parents should enter through the George Mason Route 7 Entrance, turn left through the staff parking lot and continue to the MEH entrance to dropoff or pickup. Then continue around the MEH parking lot and exit onto Leesburg Pike.
These traffic flow restrictions will be in effect through the duration of the George Mason High School construction and are subject to change based on project needs.
We appreciate your patience for these next 18+ months...and remember, there's a new high school on the other side!