FCCPS CORONAVIRUS INFORMATION (COVID-19)
Last Update: May 15, 2020
The Centers for Disease Control and Prevention (CDC) notes CDC and state and local public health laboratories are testing for the virus that causes COVID-19.
COVID-19 Now a Pandemic. A pandemic is a global outbreak of disease. Pandemics happen when a new virus emerges to infect people and can spread between people sustainably. Because there is little to no pre-existing immunity against the new virus, it spreads worldwide.
PROTECTING YOURSELF FROM CORONAVIRUS INFECTION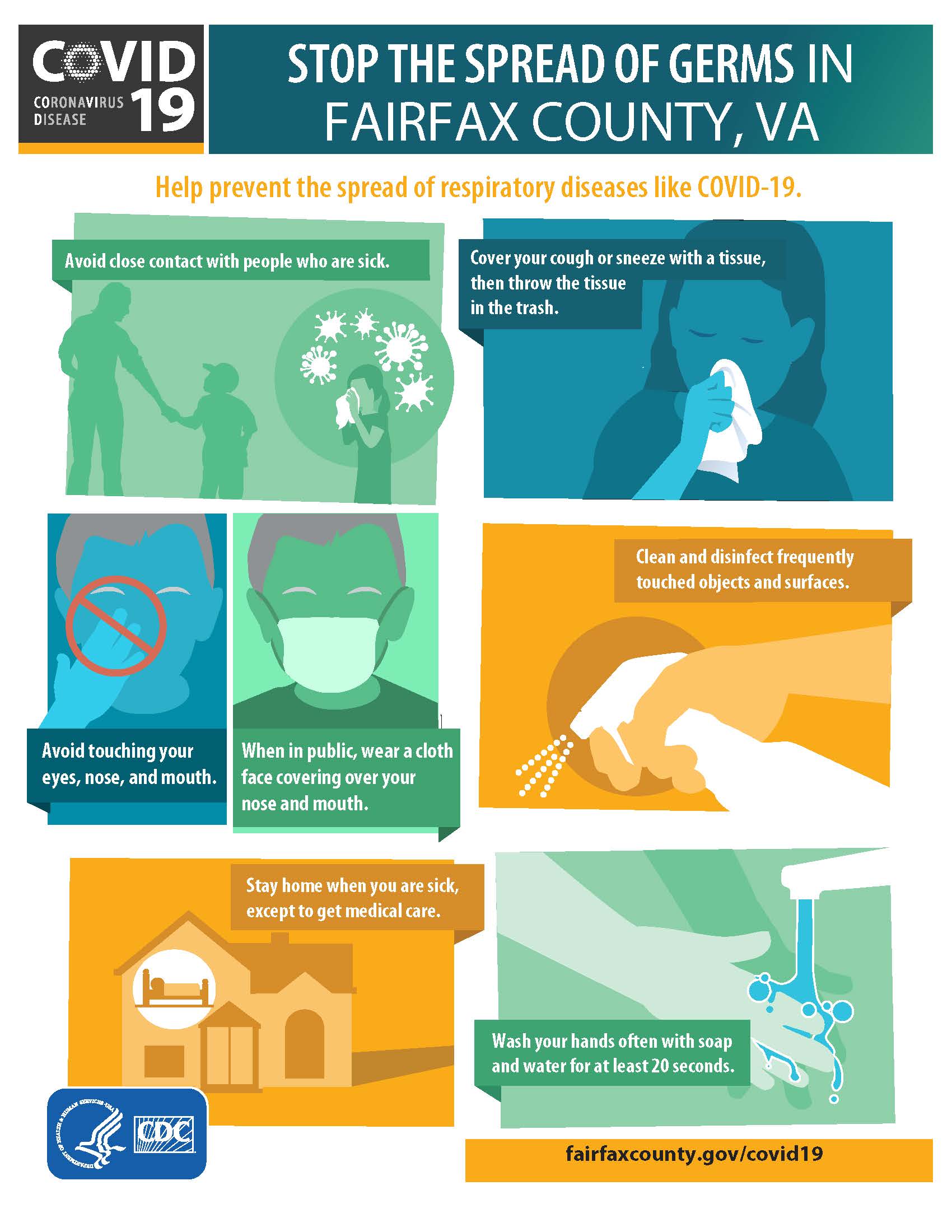 Currently, there are no vaccines available to prevent COVID-19 infections. However, there are steps you can take to prevent the spread of flu and the common cold that will also help prevent coronavirus disease:
Wash hands often with soap and water. If not available, use hand sanitizer.

Avoid touching your eyes, nose, or mouth with unwashed hands

Cover your mouth/nose with a tissue or sleeve when coughing or sneezing

Avoid contact with people who are sick

Stay home while you are sick and avoid close contact with others
The CDC does not recommend that people who are not sick wear a facemask to protect themselves from respiratory viruses. Rather, masks should be reserved for people who are sick so they can protect others from getting infected.
The Fairfax County Health Department (FCHD) is coordinating with state and local public health and safety partners to be prepared to take additional public health actions as necessary to keep the community safe.
When a new disease is circulating, it's natural for people to be concerned and ask what they can do to protect themselves and their families. The FCHD has developed an informational Fact Sheet on Coronavirus that summarizes the disease, how it spreads, who is at risk, and how you can protect yourself from it.
The Falls Church City Public Schools community is known to travel broadly. If any students, parents or employees who have recently traveled to or from China, Iran, South Korea, or Italy and are exhibiting symptoms, such as fever, cough, and difficulty breathing, they should stay home and contact their health care provider immediately. Public Health guidance does NOT recommend quarantine of people from China, Iran, South Korea, or Italy or other countries who are well and have not had contact with a patient who has confirmed coronavirus disease.