EDIT MAIN
Mary Ellen Henderson
COVID-19 Information
---
April 3, 2020
Upcoming Dates:
FCCPS Spring Break - Monday, April 6 - Monday, April 13th
New e-Learning starts - Tuesday, April 14th
Para ver el mensaje de la Directora Hardy en Espanol.
Dear Henderson Parents & Community,Congratulations! You too have made it to "spring break" and while our break looks slightly different this year, it's my hope that you and your family find some time to celebrate the spring in a new socially distant, stay-at-home kind of way!All week, our teachers and instructional specialists have been working to modify and adapt their fourth quarter curriculum so that it can be drilled down to essential standards and delivered online through our Schoology platform. Like you, I continue to be grateful for their dedication and commitment to this work. While absolutely none of our teacher preparation programs could have prepared us for teaching through a global health crisis, I applaud their incredible flexibility during these past few weeks and ask that you continue to support them alongside me as they embark on providing new learning.
Our few weeks of providing online instruction have allowed us to see how students are engaging in this format. Additionally, the feedback that you and your students have provided have helped to shape some of the scheduling and content delivery shifts that you will see as we shift to providing new content. My goal today is to provide you with an overview of what you can expect when your student logs in on Tuesday, April 14th.
Schedule
We know that life at home looks different for you and your student. We recognize the need for our teachers to have more interaction with students, and when appropriate, with each other. With a goal of providing three hours of engagement per day, we have modified our A/B schedule to allow teachers to offer synchronous or asynchronous instruction during their respective instructional block. We also know that not every student is waking up at their regular school time and know that mornings don't always work best for you as you are working from home or are supporting other learners. With that in mind, you will see that we have offered a later start on B days to include later office hours to allow some wiggle room to support your new home/work/school life balance.
All teachers will have office hours daily.
A Days /Blue- 9:00 - 10:00
B Days/Green - 3:00 - 4:00
Additionally, content teachers will be accessible during their identified instructional block to provide synchronous/asynchronous instruction and additional support via Schoology. The lessons will be recorded and accessible on the classroom teachers Schoology page for 7 days. By recording the lessons, students have the flexibility to still access the content should the identified time not work for them. Classroom teachers will be shifting back to their individual Schoology pages to support new learning. The Henderson e-Learning Course will be removed on Monday, April 13th.
Language Acquisition/Students Accessing Courses at Mason
As some of you know, we have 93 students who take courses at George Mason HS. The majority of those courses are Language classes. Principal Hills and I collaborated on our schedules to ensure that we created a way for all students to access content and office hour/instructional support from their respective teacher. As such, all Language Acquisition courses will be delivered asynchronously (recorded lessons) and all Language Acquisition teachers (Henderson & Mason) will be available during their advertised office & block hours for support. See the above chart for respective times.For our students accessing Mathematics courses at Mason, we have also ensured that you can access synchronous instruction time & office hours with your teacher. Mason will remain on an every other day block schedule. The new Mason learning schedule can be accessed here:
New Learning Schedule
.
Grading & Reporting

I know that many of you have questions about grades. You are not alone! Students and parents across Virginia and throughout the country are in a similar situation wondering how grades will be calculated. Below is our Secondary grading plan for students in FCCPS:
Quarter 3 Grade - Both Henderson and Mason will issue a 3rd quarter grade based on the work students' completed up through March 12th. A student's grade cannot go down as a result of any missing work submitted. To further support progress and learning, students will have an opportunity to turn in missing work that was assigned during the 3rd quarter (between January 27th - March 12th) which was prior to the launch of the continuity of online learning which began on March 19th. Many students have already submitted missing work and have reached out to their teachers directly. Students will continue to have time to submit missing work once we return from spring break.
Students participating in our standards-based grading (SBG) courses have demonstrated mastery of several criterion to date. In January, your student received a S1 converted score which is located in PowerSchool. Your students current overall score in Schoology consists of all summative assessments though March 12th. The score from March 12th will be converted to a letter grade using our official FCCPS overall IB MYP conversion chart, and issued as a Q3 grade.
Students have the ability to retake summative assessments delivered from January 27th - March 12th to improve their Q3 grade. Teachers in SBG courses will continue to deliver instruction and provide feedback on assessed criterion as we embark on new learning and will issue a pass/fail (P/F) in Q4 to align with our secondary grading plan.
Secondary New Learning (April 14th - May 29th) - For the fourth quarter (Q4), Henderson & Mason will issue a universal P/F based on the student's level of mastery of learning, work completion, active participation, and engagement in online learning. Students' semester two (S2) grade will be determined based on their quarter three (Q3) grade plus participation in online new learning in Q4. If a student is satisfied with their Q3 grade they still must engage in the new learning during Q4 in order to earn a pass "P."
The following graphic describes how a S2 grade will be determined.

Semesters 1 & 2 grades for high school courses will be calculated into a student's overall GPA and recorded on the transcript. Colleges and Universities will receive our GMHS transcript along with our School Profile which will indicate that S2 in 2020 was impacted by COVID-19. We have spoken to admissions offices in Virginia and received confirmation from those outside of Virginia that S2 in 2020 will be reviewed differently as a consequence of the global pandemic.

The chart below provides guidance on how a P or F will be determined for Q4 at Mason and Henderson:
Special Education and 504 Students Instructional Support
As we begin to offer new learning on April 14th, please be reassured that our students with IEPs and 504 Plans will continue to be supported. While this new distance learning environment can never replicate what would be provided in the traditional school setting for our students with disabilities, know that our Regular Education Teachers, Special Education Teachers, 504 Case Managers, and Related Services staff will be there to help guide and assist our students. This support will include: personalized instructional assistance, 1:1 conferences, emails, telephonic help, synchronous (live) lessons, asynchronous (recorded) lessons, alternate activities, small group instruction, and other supports based on the individual needs of each student. Special Education Teachers and Related Services Providers will be available during their office hours and will continue to work with students on an individualized, case by case basis as needed. We will navigate this together as collaborative teams: students, parents, and teachers.
Students with 504 plans will also have access to needed instructional supports via their 504 Case Manager, which in most cases, is their Counselor. Regular Education Teachers will provide accommodations within the distance learning instructional environment as well. They will be available during their posted office hours to help support all of our learners.
After Spring Break, FCCPS will be providing our Special Education students access to a personalized computer adapted program focused on English Language Arts/Literacy and Math. Parents will receive information about their student's log-in and access after Spring Break. This is an additional resource being implemented by the division to continue to ensure our students are successful, despite the extraordinary circumstances facing us as a learning community.
Grading Considerations for Special Education/504 Plan Students
Please know that as we navigate this new learning environment our students with disabilities will be supported during both the learning and grading process. Our goal is to ensure that students are not penalized in any way during this time. The considerations listed below will be in place to support our students with disabilities:
Students who receive Special Education and 504 services should be afforded the same opportunities as all other students to complete and turn in work from the current grading period.
If a student has an Incomplete from the previous grading period/semester, that student should be provided the opportunity to resubmit the work.
They should further be provided with their accommodations/supports as needed to complete any missing work. Examples include, but are not limited to, extended time, resubmission of work, and shortened assignments.
Students should also be given the opportunity to demonstrate their learning in alternate ways such as through a conference/chat or alternate assignments with their teacher about the content. The Special Education teacher can then give the grade to the student for that activity/assignment.
Any missing assignment that could have been completed if school would have been in session is not possible to complete in an online/virtual situation--should be removed so as not to penalize the student due to the closure. Special Education Teachers should make the recommendation to the Regular Education Teacher and the two work together to make final determinations for the student.
It will be critical that Special Education Case Managers work closely with Regular Education Teachers to help determine grades for students with IEPs for both individual assignments and the final grade for the quarter/semester.
Students should not be penalized or grades lowered due to the educational situation created by this public health crisis and school closure.
As new learning opportunities are offered it is critical that Special Education Administrators and Special Education Teachers are a part of the grading process for students with disabilities in order to mitigate the impact of the closure.
Students with disabilities, both IEP and 504, will have access to their accommodations and any additional support needed to engage in any new learning opportunities during this non-traditional instructional period to ensure equity.
Process for IEP/504 Plan Meetings and Communication
If you were scheduled to have an IEP or reevaluation meeting during the time that we are out we will work with you to ensure that those occur, however the format will look different given the situation. The Special Education Administrator for the school will be contacting you about this process. Additionally, please know that at the end of the closure and we resume regular instruction, IEP/504 teams will reconvene as needed to discuss the impact of the closure on our students with disabilities.
Please reach out to your student's case manager when you have questions and be patient as we work together to ensure our students' continued success, despite the current circumstances.
Mental Health Support
Our new "normal" facing us as a learning community, and as families, is so very stressful. Anxiety is high and social/physical distancing can make us feel isolated. We are also spending much more time together as families in close quarters which is new as well. We have to monitor our mental health just as we watch our physical health. Our emotional well-being is essential. FCCPS has provided some important information and great resources on our FCCPS Mental Health Support website. Please visit the site for information related to Community Resources should you need emotional support or are experiencing a mental health crisis. It also includes excellent resources for stress reduction and relaxation for adults, as well as children. Our School Counselors will continue to hold office hours during new learning. They are a vital resource for your student now more than ever.
As I wrap up this week's Herald and prepare to unplug for a few days to rest and reconnect with my family, I want to extend a heartfelt thank you to each of you. This past month has been an emotional journey like no other full of very long weeks for our staff, administrative team and entire FCCPS community. We have been overwhelmed with your gratitude, generosity and support as we have done our best to make this transition as seamless as possible for your student (and for you). As we embark on new learning, we know there will be some bumps, there will be questions, and as we always do, our Henderson Family will be there to help! You will receive a communication from me on Monday, April 13th as we prepare to launch new learning on Tuesday, April 14th. Until then, be safe, stay at home, take social distancing seriously, read something good, and continue to find joy in this journey!
With tremendous gratitude,
Valerie K. Hardy
#teamFCCPS Poster Parade! (link)
The support for this was amazing! Shout out to #teamfccps for showing how amazing this community is!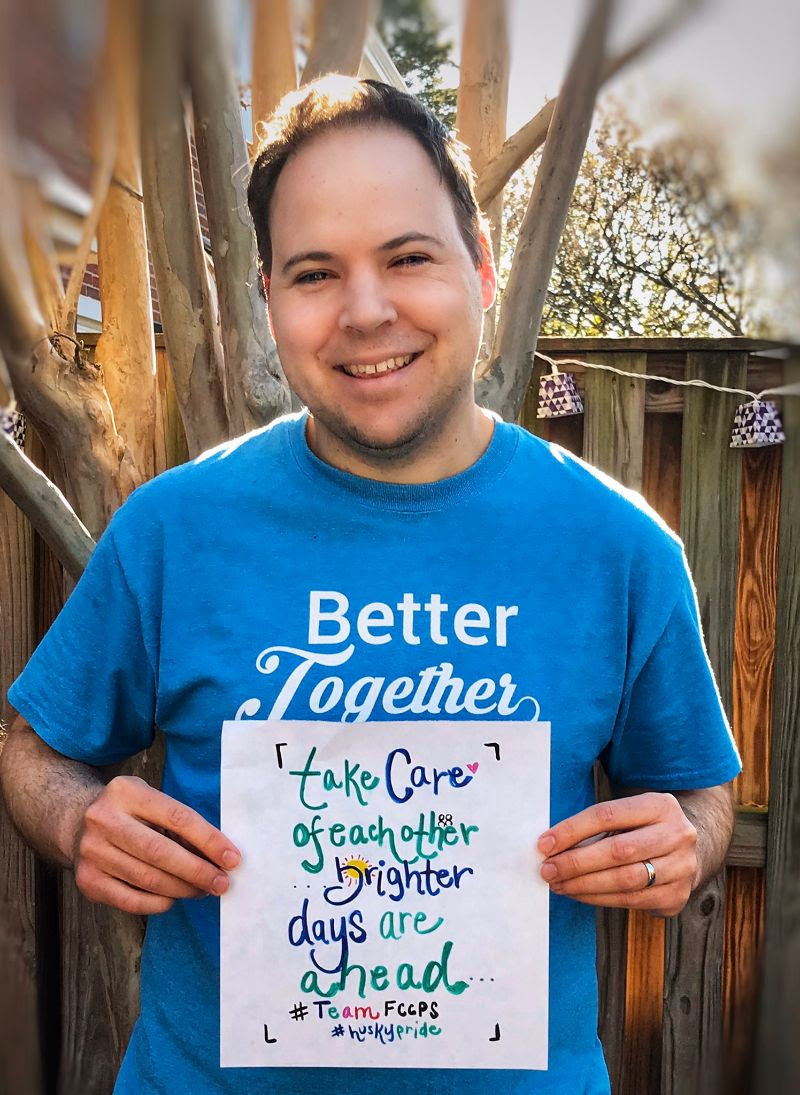 Computer issues?
Are you experience technical difficulties with your school issued device? If so, please complete
this form
and a member of our tech team will contact you!
Va. Dept of Ed COVID:19 Updates
The VDOE has created the
COVID-19: A Parent Guide for School-Aged Children
to serve as a resource for parents, families and caregivers on a variety of topics related to COVID-19 and their students.
Continue to visit the VDOE
website
for additional updates and guidance on COVID-19. If you have questions, please contact the VDOE Department of Special Education and Student Services, at
specialed.assistantsuperintendent.memo@doe.virginia.gov
.
Mary Riley Styles Resources
Our Digital Collections & Research Tools
Companies Stepping Up During COVID-19
Also keep in mind these free or enhanced services being offered during the COVID-19 crisis:
Don't Have a Library Card Yet?
Want to use our Digital Collections and online Research Tools but don't yet have a card? We will continue to process new cards while we are closed due to COVID-19.
Click here
to apply for a library card online. Once your application has been processed, we will email you your login information as soon as possible. This will provide you with access to our
digital collection
and
online research tools
while we are closed. Once we reopen, we will resume card pick up/mailing cards out to patrons.
Need Help Getting Started?
If you are new to our digital collections and have questions, or if you are a seasoned user but experiencing problems, we can try to help. Use our
Contact Us
page to learn how to reach library staff. We are regularly checking email, voicemails, and texts and will follow up as soon as possible.
Order a Yearbook Today
Yearbooks remain on sale through 5/1/20. The cost is $45. Order your Yearbook online here:
Jostens
PTA Connection
---
April 1, 2020
Dear Henderson Parents & Community,
I hope this email finds you well and in good health.
As you know, when students return from spring break on Tuesday, April 14th, we will begin providing new instruction to your students. Our teachers have used this week to prepare lessons that are designed to cover essential content in our online platform. They are excited to get back to what they do best, teaching and interacting with your students! In this Friday's Husky Herald, I will provide you with an overview of what this will look like for us at Henderson. In an effort to offer teachers collaborative time to prepare for this instructional shift, we will not be offering office hours on Friday, April 3rd. Thank you in advance for your flexibility and be on the lookout for this Friday's Herald!
Respectfully,
Valerie K. Hardy
---
March 27, 2020
We have made it to Friday! Friday's seem less anti-climatic these days, as they all seem to be running together. As Dr. Noonan shared, after spring break, all schools will begin offering new learning on Tuesday, April 14th. Our teachers will begin preparing for this next week and I'll have more information on what this will look like at Henderson in next week's Herald. Dr. Noonan also shared that any missing assignments or unfinished work done during the 3rd quarter (prior to our closure on March 13th) can still be submitted. Students who need to do so should first use PowerSchool and Schoology to determine what if any assignments are missing, and then submit missing assignments electronically to the respective teacher by Friday, April 3rd. If submission is a challenge, we will support students with getting it to us. We are posting this information on Schoology for our students to know and have access to as well. This week, many of our teachers were able to access the conferencing feature in Schoology and this will remain an option that teachers are able to use as we move forward with new learning. I know that they have LOVED seeing students and miss them tremendously!

On the home front, like you, I've been trying to balance being a teacher and leading an online school full-time. I appreciate my daughters' teacher more now than ever before and am adjusting to our "new" teacher/student relationship. We have a schedule and are settling into a routine, however, I'm also embracing the fact that some days she has more iPad time than we'd like. Today she discovered the classic cartoons on Boomerang and has fallen in love with Tom & Jerry. While I led a few virtual meetings on the back deck, she enjoyed an extended art project in the sun.

This is definitely not our norm, but I am learning to embrace our new reality and grateful for this time with our girl and good health! I hope that you are forging a new path as well. Continue to take care of yourself and each other!

Respectfully, Valerie K. Hardy
Computer issues?
Are you experience technical difficulties with your school issued device? If so, please complete this form and a member of our tech team will contact you! Va. Dept of Ed COVID:19 Updates The VDOE has created the COVID-19: A Parent Guide for School-Aged Children to serve as a resource for parents, families and caregivers on a variety of topics related to COVID-19 and their students.
Continue to visit the VDOE website for additional updates and guidance on COVID-19. If you have questions, please contact the VDOE Department of Special Education and Student Services, at specialed.assistantsuperintendent.memo@doe.virginia.gov. Mary Riley Styles Resources
Our Digital Collections & Research Tools
Companies Stepping Up During COVID-19
Also keep in mind these free or enhanced services being offered during the COVID-19 crisis:
Don't Have a Library Card Yet?
Want to use our Digital Collections and online Research Tools but don't yet have a card? We will continue to process new cards while we are closed due to COVID-19.
Click here to apply for a library card online. Once your application has been processed, we will email you your login information as soon as possible. This will provide you with access to our digital collection and online research tools while we are closed. Once we reopen, we will resume card pick up/mailing cards out to patrons.
Need Help Getting Started?
If you are new to our digital collections and have questions, or if you are a seasoned user but experiencing problems, we can try to help. Use our Contact Us page to learn how to reach library staff. We are regularly checking email, voicemails, and texts and will follow up as soon as possible.
---
March 18, 2020
Dear Parents,
Launching E-Learning is going to be a new adventure for all of us. I have posted this information on our general Mary Ellen Henderson MS Schoology page for students to access in addition to sending this information to you tonight. We will all learn how to navigate this virtual learning experience together! Teachers have created instructional work for the five core courses: Mathematics, Language & Literature, Individuals & Societies/Humanities, Science, and Language Acquisition or Reading Lab. Our ENCORE team has also provided instructional resources that we recommend be incorporated into student's daily E-Learning to break-up the day and provide a break from the laptop!
The instructional materials included in the E-Learning course are designed to reinforce concepts that have been learned throughout the school year or delve into topics that students have prior knowledge of but have not had time to explore in-depth. Teachers will not be live streaming or providing direct instruction online via Schoology. The lessons are self-directed, allowing students to work through the material and coursework independently. Many lessons contain video links, web links, and readings that will be used to support students learning. By focusing on reinforcing previous concepts, we are thoughtfully using this time to help us prepare for the end of year assessments and thereby allowing us to re-engage in our MYP/SOL aligned teacher-directed instruction when students return to Henderson.
In order to pace students learning and daily routine, we recommend that they keep to their A day/B day schedule. Recognizing that working from home will require a new rhythm, we have shared a sample daily schedule below:
8:30 - 10:00 - Reading, IXL, etc.
10:00 - noon - Independent online E-Learning
Noon - 1:00 - lunch/break
1:00 - 2:00- Independent Online E-Learning
2:00 - 3:00 - ENCORE Activity
Structure
Tomorrow, each student will be enrolled in our Henderson E-Learning Schoology Course. I have included a screenshot of the course below for you to see. There are subject-specific folders and within each folder, you will find materials for your student's specific course. For example, if your student is taking Math 8, you would click on the Mathematics folder and then the Math 8 folder to access the course materials.

Teachers will hold office hours throughout the week. During office hours, teachers will actively be online and able to respond to students in real-time and can support them with assignments. These "office hours" are an optional form of student/teacher communication and provide time for answering questions related to the resources. The office hours are listed here and are also located on the Henderson E-Learning Schoology Course which will launch tomorrow. Students are also welcome to email or Schoology message teachers outside of their respective office hours. Teachers will be monitoring their email and messages throughout the day and will respond to students. For example, if you have a question about your math work, you may reach out to your math teacher on Monday, Wednesday, Friday from 10-11 and they will be able to support you in real-time.
Conferencing
Within Schoology, there is a feature for teachers & counselors to hold 1:1 audio or video conferencing with students. Staff have the ability to initiate this feature and will do so as appropriate with students. Accessing this feature is "new learning" for all of us, and the preferred method for ease of communication will be Schoology messages and email.
School Counseling
School counselors will be accessible during office hours and will be monitoring email and Schoology messages throughout the day. They will also be providing 1:1 conferencing as needed with students. Our counselors have posted a folder on the E-Learning Course containing a variety of career and mindfulness related activities.
Student Services
All ESOL and IEP Case Managers along with Related Service Staff (Speech, OT, PT, Behavior Specialists, Counseling, School Psychologists, School Social Workers) will be holding "office hours" for online/virtual and email support for your students. Your students ESOL, IEP Case Manager, and Related Service Providers will be reaching out via email to touch base with you about resources and supports for your student over the next few days. Your student has access to all of the instructional resources provided to their grade level, in addition to additional support resources from their ESOL or IEP Case Manager based upon their individual needs. If your student is in need of additional support or help please reach out. Please contact your students ESOL or IEP Case Manager or our Special Education Administrator, Mr. Adam White, whitea1@fccps.org, with specific questions. We appreciate your patience as we navigate this together. This is new for us all, but our goal is to ensure that our students are supported given this unique situation facing us all. There will be bumps and we will work through them, so please be patient. This is an evolving plan and we will be providing updates as we receive them. Please visit our FCCPS Special Education, 504, ESOL Page on Thursday for additional resources and information.
Laptop Retrieval & Technology Support
We know that some students were unable to retrieve their laptop over the weekend. We will have limited hours tomorrow by appointment only for your students to come to get their laptops, instrument, and any necessary items from their locker. We are scheduling appointments to minimize physical interactions for students and staff. If you need to retrieve an item, please select a time from the choices on the spreadsheet below. Should you need to retrieve medication for your student, indicate it on the spreadsheet and know that it must be picked up by an adult. Henderson computer pick-up 3/19/20
In the event that we cannot resolve the issue remotely, we will schedule appointments to support families. This will allow us to ensure that we are maintaining physical distancing.
This is uncharted territory for sure, and as we work through the nuances of this new learning platform, please let us know how we can support you. Dr. Dippold, Mr. Carey, Mr. White and I will be posting daily updates to check-in and maybe even do some "challenges" with your students. As always, and maybe more so now than ever, please don't hesitate to reach out to any of us if you have any questions!
See you online!
Mrs. Hardy
---
Lanzamiento de Henderson E-Learning
Lanzando E-Learning será una nueva aventura para todos nosotros. ¡Aprenderemos a navegar juntos esta experiencia de aprendizaje virtual! Los maestros han creado trabajos de instrucción para los cinco cursos principales: Matemáticas, Lengua y Literatura, Individuos y Sociedades / Humanidades, Ciencia y Adquisición de Idiomas o Laboratorio de Lectura. ¡Nuestro equipo ENCORE también ha proporcionado recursos de instrucción que recomendamos que se incorporen al E-Learning diario de los estudiantes para terminar el día y proporcionar un descanso de la computadora portátil!
Los materiales de instrucción incluidos en el curso de E-Learning están diseñados para reforzar los conceptos que se han aprendido durante el año escolar o profundizar en temas que los estudiantes tienen conocimiento previo pero que no han tenido tiempo de explorar en profundidad. Los maestros no transmitirán en vivo ni brindarán instrucción directa en línea a través de Schoology. Las lecciones son autodirigidas, lo que permite a los estudiantes trabajar a través del material y los cursos independientemente. Muchas lecciones contienen enlaces de video, enlaces web y lecturas que se utilizarán para apoyar el aprendizaje de los estudiantes. Al centrarnos en reforzar los conceptos anteriores, estamos utilizando este tiempo cuidadosamente para ayudarnos a prepararnos para las evaluaciones de fin de año y, por lo tanto, nos permite volver a participar en nuestra instrucción dirigida por el maestro alineada con MYP / SOL cuando los estudiantes regresen a Henderson.
Para dar ritmo al aprendizaje y la rutina diaria de los estudiantes, recomendamos que mantengan su horario de día A / día B. Reconociendo que trabajar desde casa requerirá un nuevo ritmo, hemos compartido una muestra del horario diario a continuación:
8:30 - 10:00 - Lectura, IXL, etc.
10:00 - mediodía - E-Learning en línea independiente
Mediodía - 1:00 - almuerzo / pausa
1:00 - 2: 00- Aprendizaje electrónico independiente en línea
2:00 - 3:00 - Actividad de ENCORE
Estructura
Mañana, cada estudiante estár inscrito en nuestro Curso de Schoology "Henderson E-Learning". He incluido una captura de pantalla del curso a continuación para que lo veas. Hay carpetas de asignaturas específicas y dentro de cada carpeta, encontrará materiales para el curso específico de sus estudiantes. Por ejemplo, si su estudiante está tomando Matemáticas 8, debe hacer clic en la carpeta Matemáticas y luego en la carpeta Matemáticas 8 para acceder a los materiales del curso.

Los maestros tendrán horario de oficina durante toda la semana. Durante las horas de oficina, los maestros estarán activamente en línea y podrán responder a los estudiantes en tiempo real y pueden apoyarlos con tareas. Estas "horas de oficina" son una forma opcional de comunicación estudiante / maestro y proporcionan tiempo para responder preguntas relacionadas con los recursos. Las horas de oficina se enumeran aquí y también se encuentran en el Curso de Schoology "Henderson E-Learning" que se lanzará mañana. Los estudiantes también pueden enviar correos electrónicos o enviar mensajes a los maestros por Schoology fuera de sus horarios de oficina respectivos. Los maestros monitorearán sus correos electrónicos y mensajes durante todo el día y responderán a los estudiantes. Por ejemplo, si tiene una pregunta sobre su trabajo de matemáticas, puede comunicarse con su maestro de matemáticas los lunes, miércoles y viernes del 10 al 11 y podrán apoyarlo en tiempo real.
Conferencia
Dentro de Schoology, hay una función para que los maestros y consejeros realizan conferencias de audio o video 1:1 con los estudiantes. El personal tiene la capacidad de iniciar esta función y lo hará según corresponda con los estudiantes. Acceder a esta función es un "nuevo aprendizaje" para todos nosotros, y el método preferido para facilitar la comunicación serán los mensajes y el correo electrónico de Schoology.
Consejería Escolar
Los consejeros escolares estarán accesibles durante las horas de oficina y estarán monitoreando el correo electrónico y los mensajes de Schoology durante todo el día. También proporcionarán conferencias 1:1 según sea necesario con los estudiantes. Nuestros asesores han publicado un folder en el curso de E-Learning que contiene una variedad de información sobre carreras y actividades relacionadas con la atención plena.
Servicios Estudiantiles
Todos los administradores de casos de ESOL e IEP junto con el personal de servicios relacionados (discurso, OT, PT, especialistas en comportamiento, asesoramiento, psicólogos escolares ...) mantendrán "horas de oficina" para soporte en línea / virtual y correo electrónico para sus estudiantes. Los estudiantes de ESOL, IEP Case Manager y proveedores de servicios relacionados se comunicarán por correo electrónico para comunicarse con usted acerca de los recursos y el apoyo para su estudiante en los próximos días. Su estudiante tiene acceso a todos los recursos de instrucción proporcionados a su nivel de grado, además de recursos de apoyo adicionales de su administrador de casos de ESOL o IEP según sus necesidades individuales. Si su estudiante necesita apoyo o ayuda adicional, comuníquese. Comuníquese con el administrador de casos de ESOL o IEP de su estudiante o con nuestro administrador de educación especial, Sr. Adam White, whitea1@fccps.org, con preguntas específicas. Agradecemos su paciencia mientras navegamos juntos. Esto es nuevo para todos nosotros, pero nuestro objetivo es asegurarnos de que nuestros estudiantes reciban apoyo dada esta situación única que enfrentamos todos. Habrá obstáculos y trabajaremos para superarlos, así que tenga paciencia. Este es un plan en evolución y proporcionaremos actualizaciones a medida que las recibamos. Visite nuestra Página de Educación Especial, 504, ESOL de FCCPS el jueves para obtener recursos e información adicionales.
Recuperación de laptop y soporte tecnológico
Sabemos que algunos estudiantes no pudieron recuperar su computadora portátil durante el fin de semana. Tendremos horas limitadas mañana con cita previa solo para que su estudiante venga a buscar su computadora portátil, instrumento y cualquier artículo necesario de su casillero. Estamos programando citas para minimizar las interacciones físicas para los estudiantes y el personal. Si necesita recuperar un elemento, seleccione una hora de las opciones en el documento a continuación. Si necesita recuperar medicamentos para su estudiante, indíquelo en el documento y sepa que debe ser recogido por un adulto. Recolección de computadora en Henderson 3/19/20
En caso de que no podamos resolver el problema de forma remota, programaremos citas para apoyar a las familias. Esto nos permitirá asegurarnos de mantener el distanciamiento físico.
Sin duda, este es un territorio desconocido y, a medida que trabajemos con los matices de esta nueva plataforma de aprendizaje, háganos saber cómo podemos apoyarlo. El Dr. Dippold, el Sr. Carey, el Sr. White y yo publicaremos actualizaciones diarias para chequear y tal vez incluso hagamos algunos "desafíos" con sus estudiantes. Como siempre, y tal vez más que nunca, ¡no dude en comunicarse con cualquiera de nosotros si tiene alguna pregunta!
¡Nos vemos en línea!
Sra. Hardy
---
March 14, 2020
Dear Parents,
Thank you so much for bringing your students by today to retrieve their laptop and school-related items.
A few parents reported having difficulty accessing their personal wifi when logging in at home, or have received a message stating that an administrator password is required. If this applies to your student, please bring your laptop back to school tomorrow, Sunday, March 15th, between 9-4, so that our technology team can fix it for you.
If you are planning to retrieve your laptop tomorrow, we recommend that you come early so that we can provide support should you have any problems with your wifi connection at home.
You can also reach out to the respective people listed below for technology support:
Thomas Jefferson ES: Alane O'Neill, oneilla@fccps.org , Hai Le, haile@fccps.org
Mary Ellen Henderson MS: Lori Fogle foglel@fccps.org, Kim Nguyen, nguyenk@fccps.org
Thanks for your patience as we transition to e-Learning.
---
March 13, 2020
Dear Henderson Parents & Community Members,
Thank you for all of your support and patience as we work to address this public health crisis. This week we shared our FCCPS Emergency Response Plan that would be deployed should we close for more than 3-days due to the Coronavirus (COVID-19). Unfortunately, we have arrived at that moment for our FCCPS school family. As you are aware, FCCPS will be closed from Monday, March 16th thru Monday, April 13th for our students. On Thursday, March 19th we will deploy our online resources for your student to begin working within Schoology. This letter will outline details specific to Henderson.
On Saturday, March 14th and Sunday, March 15th, our schools will be open from 9 am to 4 pm for families to pick up items. The schedule was developed to help ensure everyone's safety and support social distancing practices. During distribution please try to stay 6 feet from one another, as we work as quickly as we can to ensure that each student receives the necessary items.
In order to ensure that we are able to distribute laptops, medications, and food to those students eligible for free and reduced-price meals, parents may need to visit each school that their student attends. Technology and medication pick up will occur at each child's school while food will be available at the location where families receive backpack program support or at the school the oldest child attends for families who receive free and reduced-price meals.

Laptops & Item Retrieval:

All students will need to obtain their FCCPS laptop to participate in our e-learning Schoology course. We will also provide a charger. Students taking courses at Mason already have their take-home laptops issued to them.

In order to ensure that we don't have large crowds in the school, we have designated the following pick-up times below. Students will enter the building, obtain their laptop from the location where it is housed and will be issued a charger as they leave the building. We recognize that not everyone can make these definitive windows, however, we strongly encourage you to come during the respective grade level time to support an efficient laptop distribution.
We will also encourage students to retrieve their instruments from the band room as well as any other items required items from their locker. We kindly ask that only students enter and exit the building to minimize social interactions as much as possible.

We recognize that some of you have students in multiple grade levels. We do not want you to make two trips to Henderson and will make accommodations so that your students can get their laptops and items in one visit.

Medication Retrieval:

If your student has medications in the clinic, we will have staff here from 9-4 on both Saturday and Sunday to disperse medication to you. Medications must be picked up by a parent and cannot be sent home with a student.

Henderson E-Learning Schoology Course:
FCCPS will be closed for students and staff from Monday, March 16th - Wednesday, March 18th. We will launch our Henderson E-Learning platform via Schoology on Thursday, March 19th at 8AM. Our teachers have put together 20 days of instructional resources in Mathematics, Science, Individuals & Societies/Humanities, Language & Literature, World Language, and ENCORE. To support your learner, all teachers will be available during posted "office hours" and can also be reached through their FCCPS email or via Schoology message.

Adjusting to online learning will be a new rhythm for your student and we want them to find the right pace and routine that works for them. Below is a "sample" schedule of what a day of learning could look like:

8:30 - 10:00 - office hours w/teachers, reading, IXL
10:00 - noon - online lessons
noon - 1 - lunch/break
1-2 - online lessons
2-3 - ENCORE activity

These past few weeks have tested our community in a way that we have not been tested before. The uncertainty that comes with the "unknown" has definitely added an emotional strain to our students, our staff, and to many of you and your families over these past few days and weeks. As we all prepare to shift to e-Learning, we know that there will be new navigational challenges to work through, and we will continue to navigate them as a community. Thanks to Schoology, our entire staff will have a way to maintain a level of connectedness with students and even as we practice our new temporary norm of social distancing, let's not allow it to be a barrier to the heart! Check-in on a neighbor, offer support when you can, and in the midst of this global pandemic, make sure to take a moment for yourself!

I'll be in touch again on Wednesday evening, just prior to our e-Learning launch. Until then, take good care!

Respectfully,

Valerie K. Hardy
Discussing COVID-19 with my student
In addition to talking with children about the importance of washing hands, covering coughs and sneezes, and staying home when they are sick, please see these resources that are meant to support families in talking with children about COVID-19.