SCHOOL BOARD APPROVES FINAL RFP AND RFP FINALISTS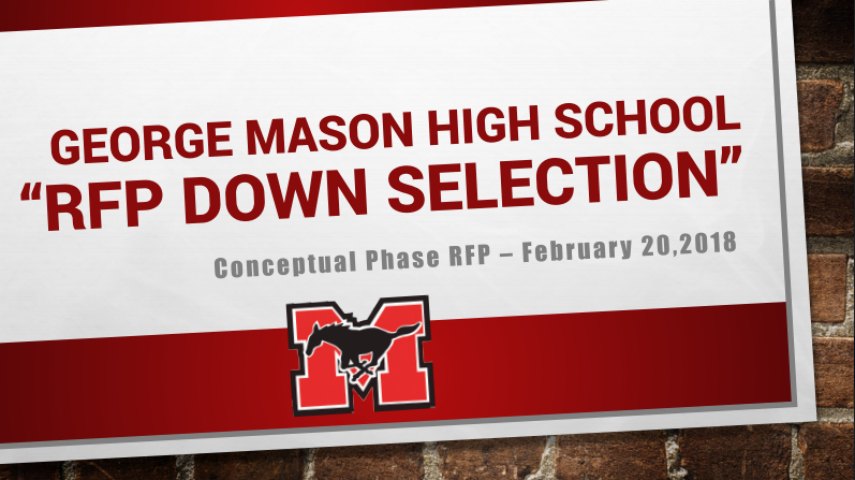 During a Special Meeting on February, 20th, the Falls Church School Board unanimously approved a Request for Proposal for the Design Phase. The City issues the RFP on Thursday, February 22.
Following approval of the updated RFP, the Board also announced the three of five proposers who are being invited to continue participating in the process.
The three finalists are:
Clark Construction and Mosely Architects

Davis/Smoot Construction with Perkins Eastman Architects

Gilbane Construction with Stantec and Quinn Evans Architects
The Down-Selection Committee members were City Manager Wyatt Shields, City Councilman Dan Sze, School Board Members Justin Castillo and Erin Gill, Legal Officer Tricia Minson, and Planning Commissioner Russ Wodiska.
Superintendent Peter Noonan noted that each of the finalists brings a wealth of experience in school construction as well as a deep understanding of how a school site and a commercial site can come together to meet, and exceed the expectations of both entities. "These companies have historical records of being on time and on or under budget," Noonan said. "And each came with creative ideas and thoughtful considerations."
The deadline for the new proposals return is May 17th.
Selection of a finalist will be in late June or early July, and afterward, full engagement with the architect and the community will begin in earnest.